<![CDATA[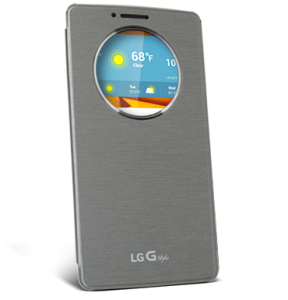 Phone cases are generally pretty expensive, especially if you want something that is both functional and looks nice. While I'm not a huge fan of the folio cases, which feature a flap that closes over the front of your smartphone, I have to say that the LG Quick Circle cases are pretty nice. And now, when you purchase a LG G Stylo from Boost Mobile, Boost will throw in a free case to go along with it! The LG G Stylo is a pretty solid phone which boasts (as the name suggests) a stylus for the 5.7 inch screen and the signature back buttons that LG uses on most of its phones. As far as guts goes, the phone itself is pretty standard and definitely will be able to handle most basic tasks with ease. For those of you a little more tech-minded, here's what the specs look like:
Android 5.1 Lollipop
1.2 GHz quad-core Snaptdragon 410 processor
1 GB RAM
8 GB memory
microSD slot (up to 32 GB)
8 MP rear camera
5 MP front camera
removable battery
4G LTE connectivity
As mentioned, for a limited time when you purchase the device you'll get a free LG Quick Circle Folio Case to go with it. The case is lightweight and features a front closure with a hole which users can customize with various watch faces and apps for easy access and more protection. I had one on my G4 for a little bit and while I'm not a fan of folio cases and ended up returning it, I can definitely say that it looked and felt pretty snazzy. The LG Quick Circle Folio Case has a retail value of around $50. You can
purchase the LG G Stylo from Boost Mobile for $199.99
, and the phone will require activation on a Boost Mobile plan.
Plans range from
$35 – $55 depending on the amount of data involved. For more information on Boost Mobile plans and service, visit the
Boost Mobile website
.]]>