<![CDATA[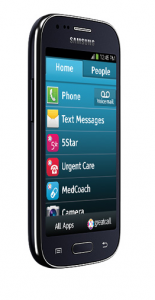 Greatcall
, the creator of
Jitterbug
, has announced that they will be offering a new smartphone aimed at older consumers. The new
GreatCall Touch3
offers intuitive touchscreen interface without all of the complexity of other smartphones so that older consumers can live more safely, comfortably, independently and confidently within their own communities. Unlike more popular smartphones, with the GreatCall Touch3, you won't have to wade through dozens of screens and options to reach the functions you really need. This simple interface features graphics and large letters so that customers unfamiliar with smartphone navigation can find essential functions quickly and easily on their own. The TouchCall3 also has access to a suite of health and safety services with the touch of a button. Health and safety apps include:
5star service App – Gain access to a team of NAED-Certified Response agents who can use the phone's GPS information and the health information provided in the user's Personal Profile to help evaluate any situation and provide the connection to whichever emergency services are required, from medication questions to emergency dispatch services. And the best part? All of the agents are U.S. based.
Urgent Care – A medical app which provides 24/7 unlimited access to nursing staff and board certified doctors anytime, without having to travel to a clinic and racking up expensive bills
MedCoach medication reminder app – enables users to easily follow medication schedules prescribed by doctors by sending reminders when necessary.
The Touch3 also comes pre-loaded with the
Link app
, which helps caregivers say in touch and monitor their loved ones' safety without intruding on their independence. The app will send an alert to connected caregivers whenever the 5Star service is launched, along with details about the emergency, and also periodically sends updates to help give peace of mind. The Touch3 is available from GreatCall's website and can be purchased for $169.99 with no contract. Currently, there is a deal to grant an additional $20 rebate and a free car charger. The phone does not require a contract. Plans start at $14/month, and access to the medical apps outlined above are a small recurring monthly fee included in your phone bill.
Check out their website
for a full list of plans and coverage.]]>