<![CDATA[
already
offer this service for a fraction of the price. Wifi calling is one of those hit-and-miss services. Either you're around wifi enough to make it work and save a TON of money, or you aren't. But, with the proliferation of free and high-speed wifi connections the former is far more likely. So, if you want to start sending everything over your wifi network, here are some companies to consider.
Republic Wireless has been around since 2011 and their entire business structure is built around using wifi signals first, and cellular networks second. Their plans start at $5/month for wifi only service, and go up from there depending on whether or not you'll actually need to access a cellular network and how often. For a full overview of their plans, click here. If you are around Wifi all the time, then this is hands-down one of the best options. There are two catches to the service, however. The first is that you cannot BYOD because Republic uses a custom ROM in their phones that prioritizes wifi over cellular networking. They have some pretty nice Moto phones, though. The second catch is that you can't make international calls from Republic Wireless, even with their wifi. I'm not certain if this is counts using a third-party app on wifi on your phone–I would think not, but you would have to check with them to clarify.

Scratch Wireless is a fairly new MVNO that offers wifi calling, text messaging and wifi surfing for free. They don't have any sort of monthly fees to use their phone service via wifi, which can make them a pretty good choice for some customers. For when you don't have wifi available, Scratch Wireless sells
voice and data passes
that will allow you to access Sprint's network when you need it. They offer daily passes for $2 and monthly passes for $15. The catch is that if you don't purchase the pass, then calls will be automatically be directed to voicemail when you don't have wifi. You will still be able to send and receive text messages without purchasing a pass, however. It's a little more expensive than Republic Wireless when you're off of wifi, but if you constantly have good quality wifi, it might be a better option as they don't charge anything at all to use wifi. Once again, though, it depends on how you use your phone and how frequently you are away from wifi.
Touch Mobile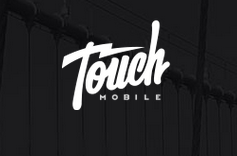 The third and slightly more expensive MVNO with wifi only calling is structured completely different than the other two above. Touch Mobile uses data for everything, so their plans are amazingly simple–you purchase however many MB you want, and all of your services are pulled from that one data bucket when you're away from wifi. Sounds pretty simple, right? I really would only recommend this service if you're around wifi at least half of the time, as their lowest plan–which starts at $20–only includes 200 MB of data. That's a decent amount, unless you are using it constantly for 
everything.
To take a look at the plans that Touch Mobile offers, click here. I really couldn't find too many catches with their service, but it definitely isn't going to be for everyone and I personally feel like the other two are better options. However, if you don't like the carrier of the other two, Touch is definitely a viable option.
Wifi Calling Programs
Another alternative to using an MVNO that is based around wifi is to simply invest in a third-party wifi calling program to use on your existing phone via wifi or even your data connection if you have unlimited.
Skype –
 I think everyone on the internet has probably heard of Skype. While the program is a little unwieldy and even slightly demanding, you can log on and do a video or voice chat with anyone over wifi–for free. They also offer the ability to call actual phone numbers instead of simply someone's Skype account. They have international plans as well, although both features require paying extra.
Check out their rates here
.
WiCall – 
WiCall is a cool program that basically reroutes calls through wifi for you, and charges a small fee generally less than $0.05/minute. While not really the best option for making local calls, this service could be really great if you make a lot of international cell phone calls.]]>