<![CDATA[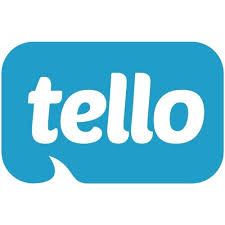 Tello
, an MVNO of Sprint, is a fairly new prepaid company that is ready for the competition. The company mainly prides itself on "no fees whatsoever" being involved with its service. I thought since new MVNOs appear all the time, and many are short lived, you might like an overview of what Tello has to offer.
Plans
Here is the company's current
lineup of plans
:
Economy – $9/month – 100 minutes, 200 texts, 200MB high speed data
Value – $21/month – 500 minutes, unlimited text, 500MB high speed data
Smart – $39/month – unlimited talk and text, 2GB high speed data
Data Savvy – $55/month – 500 minutes, no text, 5GB high speed data
While Tello does offer the four pre-made plans listed above, the company actually uses more of a
build-your-own-plan
concept, so customers can customize plans to fit their needs. Minutes begin at 100 minutes for $3, and work up to unlimited for $15. Texting starts at 200 texts for $2, but unlimited texting is available for just $1 more. Data, of course, is where it gets a little more complicated. All data is unlimited, so long as you purchase it, and throttled to 2G speeds after the high speed runs out. 4G LTE is available for purchase in the following options:
200MB for $4
500MB for $8
1GB for $11
2GB for $21
3GB for $31
5GB for $45.
While I really like the idea of having the freedom to build my own plan, I really don't see Tello being very successful until it is able to lower its data prices a little. Just to test, I built myself a plan with 500 minutes ($10), unlimited texting ($3), and 3GB of high speed data ($31) which totals out to be $44 a month. I don't think that is a bad price, necessarily, but for $1 more on Cricket I could unlimited minutes and 2GB more high speed data. To keep up with competition, Tello states on its website that plans can be upgraded at any time which helps to avoid any overage fees. Plans can also be downgraded at anytime, a feature you rarely see, and the remaining balance would roll over to the next 30 day period.
SIM Cards and Phones
Tello does have quite a few phones for sale on its website including various Samsung Galaxy devices, the LG Tribute 2, and HTC Desire 626. Most of the devices are refurbished, which helps keep the pricing low. The company also offers
bring your own phone
. Customers can activate CDMA devices, whether they are Sprint or Verizon, as long as they are unlocked. SIM Cards are available for $9.99. Alternatively, customers can bring in select unlocked GSM devices. For a full list of eligible GSM phones, or to build the plan that is right for you,
check out Tello's website
.]]>