<![CDATA[
As cell phones are progressively becoming more and more a part of our daily lives, people are finding unique ways to personalize them and companies are developing numerous gadgets and add-ons for them. There are some essential tools that most cell phone users are familiar with, such as home chargers, car chargers, headsets, cases, faceplates, decals and straps. But there are also many other things that you can purchase to get the most from your phone or to just make it as distinctive as possible. The following list of products contains an array of items that vary from the strange to the extremely useful and everything in between. Here now, is a list of the top 12 coolest cell phone accessories that you have to have.
While there are people who don't see the need for them or don't even want to use them, for the most part they are very popular because they provide a convenient combination.
As the quality of the cameras rise, people are starting to use them over their standard digital cameras.
The Cellpod is a camera phone tripod for those photography enthusiasts who want a steadier shot from their phone.
Attaching your phone is easy and quick to do, and removing it is just as simple.
Weighing only two ounces, it will fit in your pocket and can also attach to one of those cell phone belt clips that a lot of people have.
For people who take a lot of pictures with their phone and want those pictures to come out nicer, the Cellpod is the perfect accessory.
Original OEM Sony Ericsson FM Music Transmitter
If you own a Sony Ericsson Walkman phone, you are probably aware of its mp3 player capabilities. While this is a very fun feature, you might not want to be bothered with headphones every time you want to listen to music, or maybe you want to show a song off to a friend. With the Original OEM Sony Ericsson FM Music Transmitter, you can wirelessly transmit music from your phone to an FM channel on a radio. It works from up to 33 feet away and doesn't require any additional power source because it runs off of your phone's battery. You can use this transmitter for things like playing music at parties or even listening to music in your car if you do not have another mp3 player.
Sidewinder Portable Cell Phone Charger
People who go camping or are regularly away from any kind of outlet to charge their phone from are aware of the hassles of keeping a cell phone charged. Several different companies make external battery boosters that will give a little bit of extra life to your phone, but what happens when that runs out of juice. The Sidewinder Portable Cell Phone Charger answers that question with its crank handle technology. Just turn the crank on the side of the device, connect it to your phone and you've got power. It will never run out and can be a potentially life saving tool. The Sidewinder comes with a convenient carrying case and also has five different adapters, so it will work with most popular cell phone brands.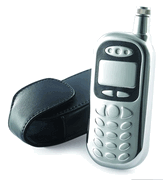 Technically, this isn't an accessory, but it's pretty damn cool and deserves to be part of some kind of list. The Cell Phone Flask is exactly what it sounds like, a flask shaped like a cell phone. How many times have you wanted to pull your flask out of your pocket and take a swig here and there but were discouraged by the people around you? More times than you can count right? Well now there's an easy solution for your problem. This flask is made of stainless steel and comes with a black leather belt case to make it look that much more authentic. It holds four ounces of your favorite poison and you can take the extra step and get it engraved if you really want to.
Everything can play video games nowadays, and cell phones are no exception. With the advent of smart phones, manufacturers are ramping up the graphic capabilities of their cell phones and they are becoming viable options to the Nintendo DS or the Sony PSP. There are specific games made that can be downloaded for smart phones, but emulators (programs that enable you to play games from other systems such as the NES or Sega Genesis) are much more popular. The Zeta Game Controller attaches to HP and LG brand smart phones and gives you a much better way to play games. It is light and has silicone keys for a comfortable feel, will run off your phone's battery and has an attachment strap to put around your wrist if you're an aggressive gamer.
Banana Cell Phone Holder
One of the most annoying songs ever recorded, Banana Phone, became somewhat of an internet phenomenon a few years back and still pops up every now and then. Well now you can have your very own banana phone with the Banana Cell Phone Holder from Nanaco. Your phone pops into the foam banana, which has different hole sizes to best fit your phone, and then you're ready. For what exactly, who knows. But if you are willing to make a fool of yourself or are just a bananathusiast, this cell phone holder is a fun little conversation piece to have.
This solar powered charger is small enough to fit in your pocket and is compatible with over 250 types of cell phones and also works with iPods.
The Soldus opens up like a book and will soak up either direct or indirect sunlight and then connect to your phone to charge it.
It will take about two or three hours to get a full charge out of it, depending on the cloud cover.
Also, you don't have to leave it outside to charge your phone; it works perfectly well if just receiving sunlight while inside your house.
This is a great alternative to external battery boosters as long as you have access to the sun, which isn't much of a hassle for most people.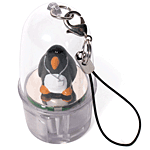 Mopods
One of the wackier items on this list, Mopods are tiny little domes with characters inside of them that attach to you phone. When you receive a phone call or a text message, the little trinket lights up and the character inside spins around. This might seem impractical and while it probably is to most people, it can be helpful if you have your phone on silent or are in a very noisy place. There are several different creatures to choose from, including monkeys, penguins and monsters and even Dr. Who characters for those sci-fi fans out there. Before buying a Mopod, make sure your cell phone provider is on a GSM network, as they don't work with G3 networks like Verizon.
VKB Bluetooth Laser Virtual Keyboard
For some people, typing with the keypad on a cell phone is frustrating when writing a long message. If you have a Bluetooth phone, you can synch it up with a Bluetooth keyboard, but who wants to carry one of those around with them all the time? Enter the VKB Bluetooth Laser Virtual Keyboard. This gadget connects to your phone and displays a full size QWERTY keyboard onto a flat surface and it fits in your pocket. It will recognize fast typing speeds and you can also adjust the sensitivity of the keys. As an added bonus, it even makes key clicking noises as if you're using a real keyboard. You will get up to two hours of typing time out of this laser keyboard, and it also looks really cool.
Skullcandy Cellphone/iPod Headset
If you have ever had your cell phone ring while you were walking around and listening to your mp3 player, you know what a hassle it is to pick up the phone and deal with your headphones at the same time. Skullcandy has remedied this problem with their Cellphone/iPod Headset combination, which has a jack for both your phone and your mp3 player. Plug both devices in and when you receive a call you can lower the volume on your music and then answer the phone it by speaking into the built in microphone. The headphones are great quality and come in both ear bud and behind the neck styles. This is a very convenient product and will be of great use for many people who have this problem.
Dolce & Gabbana Bluetooth Headset
Plenty of people have Bluetooth headsets. But do they have Bluetooth headsets made of…gold? If you're going to look important with a headset, why not go all out and look rich and stylish while you're at it. The Dolce & Gabbana Bluetooth Headset is meant to match the gold Motorola RAZR, but it works fine with all Bluetooth 1.1 and 1.2 enabled devices. It features excellent call quality and great battery life with a talk time of up to six hours. The ease of Motorola's flip-to-connect system means you can be using it to be talking in no time, and it has outstanding noise cancellation technology. Whether you want to make a fashion statement or you just want to look cool, this is one of the best Bluetooth headsets out there.
Pokia Mayfair Model Attachment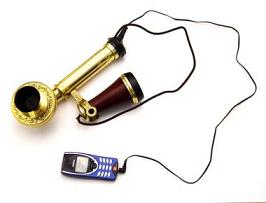 Are you tired of the old black dangling headset or too hip to have a Bluetooth headset? Do you feel out of place in the 21st century? Then the Mayfair cell phone attachment from Pokia might be exactly what you're looking for in a cell phone accessory. Shaped like an antique candlestick telephone, it attaches to your phone and works like any other hands free device. The only difference is that you look either A) completely pretentious or B) awesome. Now you can answer the phone with an "Ahoy-hoy" and not look like a complete nerd. Pokia makes several other types of retro phone attachments, but the Mayfair is without a doubt the coolest looking one.
]]>