<![CDATA[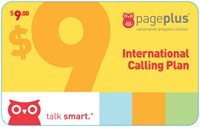 Page Plus
, a Verizon MVNO, has announced that it has expanded its international calling options for current customers. Effective immediately, the three top-tier plans will now have limited international minutes included with each monthly bill cycle. The company has also debuted a new $9 Global Calling plan which can be added to any of its regular plans.
International Calling
Free international calling minutes have been added to the $39.95, $55 and $69.95 plans. When using these international calling minutes, customers are charged a flat rate, regardless as to which country they are calling. You can only call countries on the
list of supported countries
. Direct dialing is not available through your device, but an app may be downloaded to facilitate the dialing process. International calling locations include Brazil, China, India, Mexico, Peru, Sweden and the United Kingdom, to name a few.
Global Calling Add-On
Page Plus has also added a global calling card which can be used in conjunction with any of the monthly plans. Unlike the included international minutes, the global calling add-on is a per-per-minute where rates vary from country to country. However, the funds from the Global Calling card will never expire as long as the account remains active. You can find a list of
international rates per minute per country here
. Page Plus is a Tracfone company which offers customers several different prepaid plan options including pay as you go and unlimited talk and text with LTE data. The company supports BYOD and also sells phones. For more information on Page Plus,
visit the website
.]]>