<![CDATA[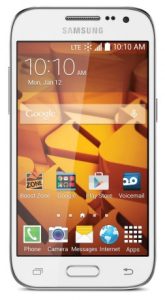 The Samsung Galaxy line is probably one of the more popular phone lines, and Boost
recently announced
they would be carrying a new version of the Samsung Galaxy Prevail. Starting on January 19, the new Samsung Galaxy Prevail will have 4G connectivity as well as a few other improvements such as increasing the screen from 4 inches to 4.5 inches; increasing the battery size slightly and upgrading the operating system from Android 4.1 to 4.4.  While none of those changes are all that big of a deal, combined with the other specs of the phone make this a pretty good midrange product to add to Boost Mobile's lineup. Here are the other hardware specs you can expect from this little phone:
1.2 GHz quad-core processor
8 GB memory with microSD slot (up to 128 GB)
1 GB RAM
5 MP rear camera
2 MP front camera
HD Voice
The new Samsung Galaxy Prevail is expected to retail at around $130 and will be able to be activated on any of Boost Mobile's plan options, which begin at $35. For more information about the phone or Boost Mobile plans,
visit their website.
]]>