<![CDATA[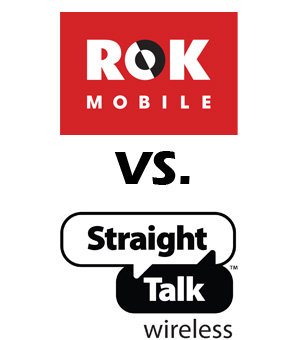 With the massive number of prepaid MVNOs and carrier options, it's sometimes hard to keep track of it all and even harder to compare and decide which company is the right one for you. So, every once in a while we're going to go through and do a Face-off of two popular companies, comparing plans and services to help you better decide. Today, we'll look at two companies – Straight Talk Wireless, which operates using all four of the United States main carrier networks, and Verizon MVNO Rok Mobile. Straight Talk has a pretty tradition style of plans, while Rok Mobile seems to be trying a fresher approach. Here's how they compare:
Plan Prices – Price range? What is included?
Rok Mobile – One plan, $49.99
Rok Mobile is a little different than most prepaid companies. It only offers one monthly plan at a standard rate of $49.99 a month. While it is the lone plan, Rok Mobile offers a unique combination of cell phone service and music. Its plan includes the Rok Music App, featuring over 20 million tracks for free. Check out more on Rok Music here.
Straight Talk – Plans range from $30 – $55
Straight Talk offers three monthly plans, from $30 – $55. It also offers a 3-month, 6-month, and one year unlimited plan that can help save some money in the long run. If you committed to the one year plan, you would end up saving $45 over the year. You can find the Straight Talk plans here.
Unlimited Talk/Text – Is it offered? What is the lowest price?
Rok Mobile – Yes, Rok Mobile's plan features unlimited talk and text
Straight Talk – The basic $30 plan only includes unlimited text. Unlimited calling begins with the $45 plan.
Data Ranges – What is the most and least data available?
Rok Mobile – Data is unlimited with Rok Mobile, and the first 5 GB are at high speeds (4G LTE). If that isn't enough, Rok Mobile has access to over 20 million WiFi hotspots nationwide that will help conserve data.
Straight Talk – The $30 plan only comes with 100 MB of data. The other two plans feature unlimited data, with either 5 or 10 GB at high speeds and the rest at 2G.
Pay-As-You-Go Rates – What are the pay-as-you-go per minute rates?
Rok Mobile – N/A- no pay as you go options available.
Straight Talk – N/A- no pay as you go options available.
International Calling – What options are available? What does it cost?
Rok Mobile – There is no international calling, texting, or roaming with Rok Mobile.
Straight Talk – Straight Talk offers an unlimited international plan for $60 a month. This includes mobile to mobile with Mexico, Canada, China, and India numbers, as well as calling to over 1,000 landline destinations. See details and a list of included countries here.
Activation Fees – How much do they cost?
Rok Mobile – No activation fee.
Straight Talk – No activation fee.
BYOD – Can you activate your own device?
Rok Mobile – Any unlocked phone should work with Rok Mobile. You can double check here.
Straight Talk – You can bring in any phone to Straight Talk, since it operates using all of the main carriers. SIM cards for GSM devices go for $0.99 cents. You can double check a device's compatibility here.
Network/Coverage – What network does it use?
Rok Mobile – Verizon | Coverage Map | Also includes Wifi hotspots
Straight Talk – AT&T, T-Mobile, Sprint, Verizon | Coverage Map
]]>