<![CDATA[I actually saw this story earlier this week, but left it alone. Why? Because while it sounds nifty that Alcatel is launching their first phone in the U.S., I was a bit confused. See, they said it was going to launch on O2. When I think O2, I think the British carrier. Alas, My confusion has been corrected. It appears that they're talking about O2, as in Locus O2, one of our featured pay as you go phone providers. So all the sudden, this is exciting news.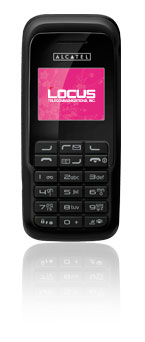 "We are excited to be the first Mobile Virtual Network Operator (MVNO) in the US to launch the OT-E206a product," commented Pete Grubb, Vice President of Sales & Marketing at Locus Telecommunications. "We believe this product provides an excellent option that is uniquely positioned to support the cost-conscious prepaid cell phone segment."
Really, there's nothing else to announce. There's no release date or price. However, here's a snippet from
Cameraphones Plaza
about the OT-E206a:
It doesn't have GPRS, EDGE, 3G, WLAN, Bluetooth, Infrared, USB, built-in camera or Internet browser, but it provides 250 entries for the phone book, polyphonic ringtones on 8 channels, vibration, SMS, and 2 pre-installed games. It weighs 2.43 oz at 3.85 x 1.67 x 0.73 inches and sports a CSTN display of 65K colors and 96 x 76 pixel resolution.
Sounds…exciting. ]]>