<![CDATA[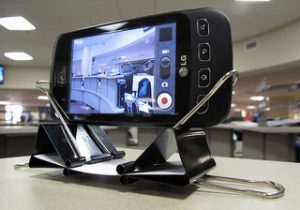 For those of us who are looking to save money with affordable phones and prepaid phone plans, phone accessories are a conundrum. While phone stands and other accessories are really nice to have, it's easy to spend a lot of excess money for something you'll barely use. So, for those of you who want some cool accessories and have a bit of a DIYer in you, here are some of the coolest phone accessories you can make at home! 
Phone Speakers
One of the most expensive phone gadgets you can get is external speakers for your phone. Sure, you can spend $5 at the store, but with most electronics, I've found that you generally get what you pay for. However, you don't have to spend a ton of money to amplify your sound. Try these hacks:
1. Toilet Paper Rolls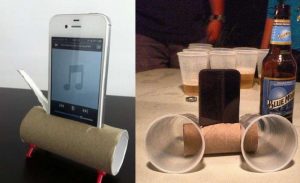 So, we know you can probably get a hold of a toilet paper roll, so why not use that to amplify the sound of your phone? Cut a slit in the top of the roll and place your phone inside. You can use thumbtacks to make 'feet' so your phone doesn't roll away, or add solo cups to make a boombox!
2. Pringles Can
Acoustics are awesome, and Pringles cans can really boost the sound of any phone with absolutely no fiddling. Just make sure you wash it out first and  be careful not to rattle the phone around, as it can be easily damaged in that little tube. Still, the sound is pretty nice.
3. Paper Cup or Bowl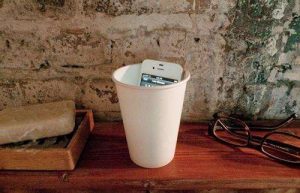 Unlike with the other two speakers, setting your phone in a paper cup or a plastic/ceramic bowl is, for some reason, less likely to distort the sound. Although I'm not sure it looks any less silly.
Phone Holders
There are times when you just don't want to hold your phone, and buying a phone stand can be really expensive, not to mention you run the risk of your case being too thick, or the holder not propping the phone at an optimal viewing angle. Well, if that's the case, why not make your own?
1. Alligator Clip Holder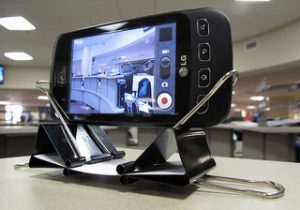 Not only does this look kind of neat, but it is great for propping your phone up for YouTube videos and such. Of course, this won't work with every phone or case, but it's worth a shot. I haven't tried this, so I'm not sure how well it will support heavier phones.
2. Cassette Holder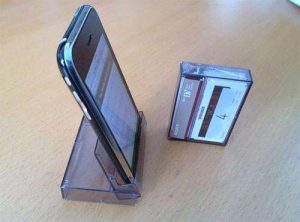 Remember when everyone had cassette tapes around? Well, dig yours out of the closet (or go buy some at the thrift store for a quarter) and use the case as a nifty phone stand!
3. Paperclip
Paperclips are easy to find, and with a little bit of ingenuity, you can fashion them into stands for lighter phones. Personally, I would recommend using one of those paperclips that are covered with bright plastic to be sure it didn't scratch the phone or anything.
Other Accessories
You would be amazed at the sheer number of other things that you can make for your phone, including a projector for videos or images, a
macro lens
to make your photos better, cases (some of which require sewing while others do not) and more. There are plenty of sites that have tons of
great ideas
, like this one, which is were many of the above came from. Let me know if you have any cool hacks for phone accessories in the comments!]]>