<![CDATA[
Portable Chargers
No battery lasts forever, but with a portable charger, you won't have to worry about your new iPhone 6 dying after hours of music streaming to their excellent speakers! Here are two of our picks for good chargers:
Boltzip Power Bank – For when you don't have an outlet, the Boltzip can charge your phone several times before needing to be charged itself. They offer two different versions, but our favorite is the Power Bank Duo which allows you to charge two devices at once!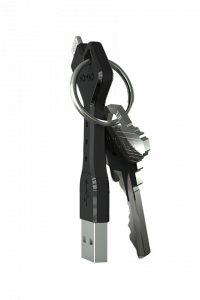 NomadKey charger – If you're like me, I am constantly misplacing cords to, well, everything. And unlike other devices, iPhones don't use universal microUSB ports, so it can definitely be a problem. The NomadKey charger (which also comes in clip form) solves this problem by keeping a compact charger cord on your key ring at all times! Note that this isn't actually a battery of any sort–simply a cable to connect to a charger. Still, definitely worth the time!
Phone Stand
A lot of cases come with kickstands, but just in case yours doesn't, a stand is incredibly useful for showing your friends that funny YouTube video, streaming Netflix or even playing a game.
Glif Tripod – The Glif tripod functions as stand in several different positions and is ridiculously versatile. You really can't ask for more in a phone stand than what Glif gives.
Speakers
While the iPhone 6 has pretty good speakers, louder is always better, right? So, of course, you'll want to have some standalone speakers to hook up your new phone. Here are our picks: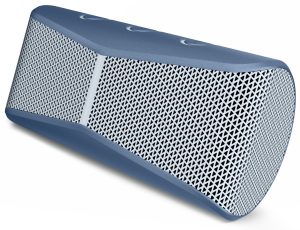 Logitech X300 Mobile Wireless Stereo Speaker – This speaker connects to your phone via Bluetooth, so no pesky wires to get tangled anywhere. The battery life isn't the best, but it's still a fantastic speaker.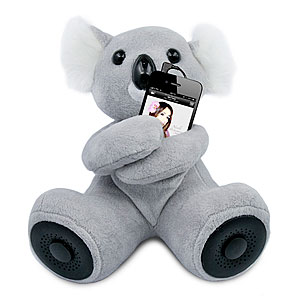 Koala Speaker –  Ok, so maybe the audio quality isn't the most fantastic, but c'mon–that's a stuffed koala bear hugging your iPhone 6 protectively and blasting out your tunes from his fuzzy little feet. We'll forgive the cute little guy for the not-as-stellar tech, right?
Camera Lens Enhancers
The iPhone 6 and iPhone 6 plus both feature 8 MP cameras, which isn't exactly terrible for snapping photos. But, if you're looking to take some absolutely stellar photos, then you'll need some camera lens enhancers. Here are two really good ones: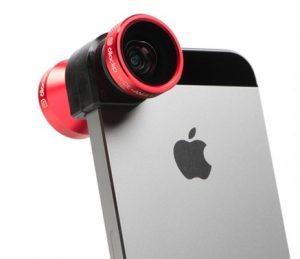 Olloclip – One of the more popular iPhone external lens options, the Olloclip is a four-in-one lens or it can be purchased for macro, telephoto and any other range of options. And let me tell you, the pictures you can take with one of these are pretty impressive.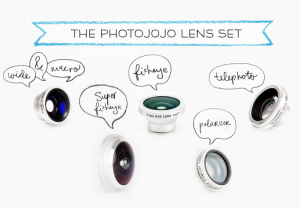 PhotoJojo Lenses – These lenses are designed to work with pretty much ANY phone, which is nice (not that you'd ever get rid of your new iPhone 6… at least, not until the iPhone 7 is out!). They attach with a magnetic plate and they are fairly inexpensive, but they don't seem to have an all-in-one option, so you'd have to switch out whenever you needed a different lens.
Fun, Nearly Pointless Accessories
Ok, so these last two definitely aren't necessary. In fact, I'm not even 100% sure under what circumstances you'd really NEED to use either of these accessories…. but they are kind of cool, so I'm including them anyway.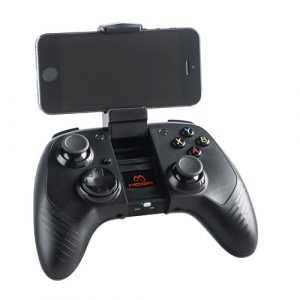 Moga Rebel Game Controller – For the hardcore phone gamer, this game controller is a must-have. Modeled after popular console controllers, it puts everything right at your fingertips without running the risk and complication of smearing your screen and making the epic boss battle hard to see around your thumbs. It is a little pricey, though.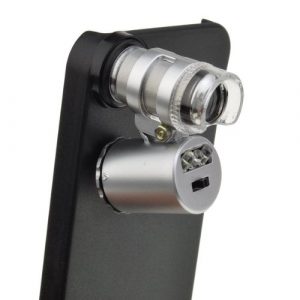 Cell Phone Microscope – Because everyone ought to have a portable microscope, right? Well, now you can! I suppose it might be nice to gross out your friends by looking at, well, anything microscopically. It can magnify things up to 60x, because you know… sometimes you just need to magnify things. Or something.
Protective Cases
Last, but not least, you will want to protect that shiny new iPhone from the wear and tear of everyday mishaps. And that means a case and proper care. There are lots of options for cases with pictures and style, but these are a few of my favorites:
Stowaway Case – For people with wallet-phobias, the stowaway case is here to the rescue! With a convenient little compartment on the back, you can store your ID, debit card, cash or top secret information in place you're sure to remember and less likely to lose. Unless, ya know, you lose your phone, in which case you are doubly in trouble.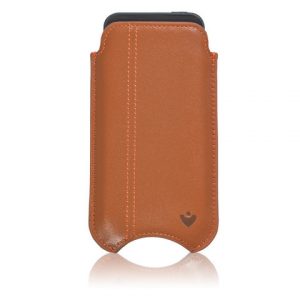 Nuevue Case Collection – These cases aren't really protective, but they will clean your phone of fingerprints, bacteria, dirt and whatever else that slick device accumulates. Perfect for germophobes and people who don't mind storing that pretty phone in a rather unattractive-looking sleeve.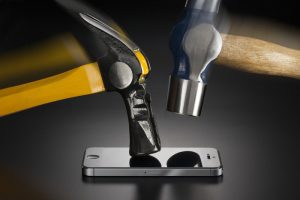 RhinoShield Protective Screen – Just in case you ever wanted to try hitting your iPhone with a hammer, you should probably invest in a rhinoshield first. In all seriousness, this screen protector offers some serious, well, protection–up to 5x more than without, their site says. Definitely something to consider if you're an active person, or just prone to accidents.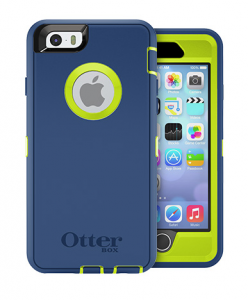 Otterbox – If you haven't heard of an otterbox, you've probably never dropped your phone or spilt a glass of water on your phone. Otterbox is one of the most well-known and trusted brands to protect your phone. They also come in some pretty snazzy designs for the iPhone 6 so it won't be lessening the attractiveness of your new device.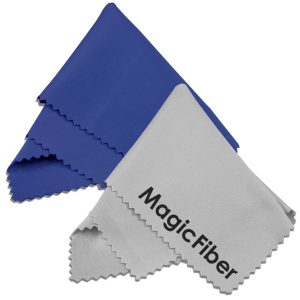 Microfiber Cleaning Cloth – So, this isn't a case. Obviously. Or an accessory, now I think about it. Regardless, that shiny screen is going to get all kinds of fingerprints on it while you're showing it off and flicking through screens and games. Be sure to clean it properly so you can wow everyone with a clean phone!
So, what are your favorite iPhone accessories? Tell me in the comments!]]>